Sometimes All That Glitters IS Gold!
Posted on
When you hear the word 'gold' what is the first thing you think of? Someone with a heart of gold? The gold mine you hope to find someday? Let's be honest, you went straight to Spandau Ballet...let me apologise now, that song will be in your head the rest of the day...
BUT if you heard the word 'gold' and thought, "Hey, I'd like to see some of that in my toilet seat," then you came to the right place!
The RTS Black Gold Glitter Toilet Seat is made of duroplast with the glitter-infused into the seat so you see it throughout. This universal seat is soft closing, has a one-button release system for easy cleaning, and comes supplied with both top and bottom fittings:
https://www.replacementtoiletseats.co.uk/ourshop/prod_6682071-Black-Gold-Glitter-Duroplast-Soft-Close-Toilet-Seat-w-One-Button-Release.html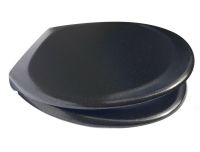 Because you ARE gold!